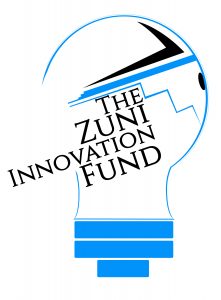 November 28, 2017
#GivingTuesday

Fundraising Campaign for the
Zuni Innovation Fund
Empowering Zuni Artists and Entrepreneurs
Invest in Zuni tradition … Invest in Zuni's future!

What is the Zuni Innovation Fund?
Imagine if you will…an assembly factory in a small village called Zuni with people hard at work manufacturing Zuni jewelry. "What's the problem," you may ask? The problem is that this particular village is located in the southern Philippines.
For decades, Zuni artisans have had to deal with the proliferation of counterfeit "Zuni style" art being imported from the Philippines (and other countries) and sold as authentic Zuni art by unscrupulous dealers.
So how do we deal with it?
Zuni Pueblo MainStreet recognizes the need for Zuni artisans to become more empowered.
How can I help?
Zuni Pueblo MainStreet wants to raise $4,000 as part of a Resilient Communities Challenge Grant. A portion of your tax-deductible contribution will go towards establishing the Zuni Innovation Fund, which will help us carry out an Arts Entrepreneur Development initiative aimed at entrepreneurship training for Zuni artisans and more focused development of an economically viable arts-based economy in Zuni Pueblo. We wish to ensure that ample resources are available for the Zuni community to sustain future economic growth opportunities.
We realize you have a multitude of worthy causes to consider, but did you know that less than 1% of charitable contributions go to Native American organizations?
Your gift has the potential to make an enormous impact for Zuni Pueblo.
We sincerely hope you'll reflect on how much you care about Zuni Pueblo and the connection you feel to our people and community. You won't simply be making a financial contribution — you'll be doing your part to help preserve the unique history, legacy, and spirit of Zuni Pueblo.
Your support will enable us to continue working towards the economic and social revitalization of Zuni Pueblo. We therefore humbly ask for your kind consideration.
Elahkwa. Do' yadon k'okshi' sunnahk'yatdu (Thank you. May you have a pleasant day).
Evalena Boone – Board President
Wells Mahkee Jr. – Executive Director
Donate securely online via Paypal (click the link below) or mail a check
(payable to Zuni Pueblo MainStreet) to:
Zuni Innovation Fund
Zuni Pueblo MainStreet
PO Box 468
Zuni NM 87327